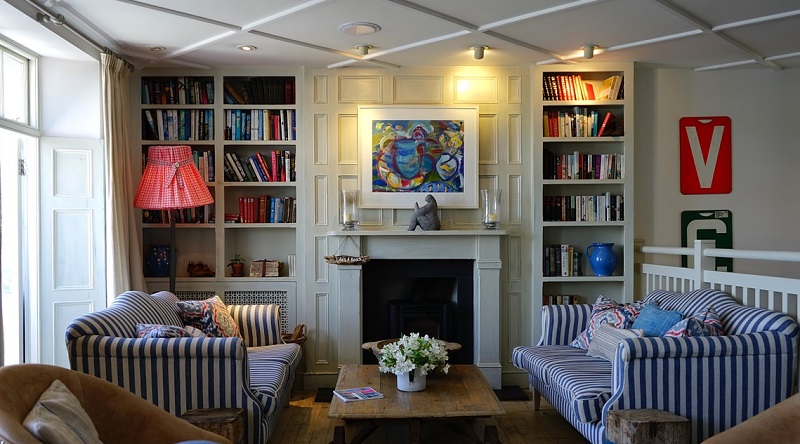 03 May

Spice Up Summer 2018 with the Latest Design Trends

As spring slowly unfolds many are getting antsy to get out, stretch their legs, and bask in the sun. In many parts of the country–including our own, here in southwest Ohio–winter seems to linger on and on this year. Help fight the weather blues with the latest summer design trends. Rather than sit around and wait for summer 2018, make some changes to your home or office!
Summer 2018 at the Office
As a younger generation moves into the workforce, they influence office design and decor. Not only that, but every generation benefits from an increased focus on employee well-being and spaces designed with human beings in mind. People no longer want a drab, uninspiring office. They want an environment that they can really interact with. Many consumers want the same thing. You aren't going to attract new customers with cream-colored walls, and that fake ficus collecting dust in the corner needs to go.
Bold Colors and Textures
Complement your office neutrals with bold colors. Highly saturated hues are been in fashion for home decor for a couple of years, and there's no reason not to try them in the office. Try accent walls or colorful trim. Go trendy with Pantone's color of the year, ultraviolet. Or try a bright blue that simulates the feeling of being outside! If you don't want to paint the walls then try changing the color of your furniture. Rather than typical black chairs try a funky lime green or a scarlet red that really makes your office pop.
Another home design trend crossing over to the workplace is the use of playful, varied textures. Anything from a handmade rug to funky acoustic wall tiles can add dimension to your space. If you're spending summer 2018 inside the office, make it fun.
Flexible, Open Work Spaces
Bob Fox, of Work Design Magazine, says, "As organizations evolve, new workspaces will need to allow for people to connect rapidly across all levels." Many offices don't get much traffic from customers anymore so they can turn their focus to employee connection. Let's start with those cubicles. Open things up a bit and kick down those horrible, fabric-covered walls! You may boost employee morale when people feel less trapped. Take some advice from Officelovin' and Wework's Civic Center office space in San Francisco. Their offices boost productivity by promoting a workplace community.   
Bring Nature Indoors
Biophilic design, a big 2017 trend, continues to grow. Writes Inc., "from rooftop gardens to water features to nature-based wall dividers using bamboo or wood, nature was the name of the game in the context of employee health and wellbeing."
It's true, real plants can be difficult to keep alive, and when it comes to cleaning up the dead leaves it can be hard to find a volunteer. But did you know that having live plants in your office can be a huge benefit? Bindertek.com supports them because they improve the mood of employees and they purify the air.
Start by just offering everyone a small succulent for their desk. Or, you can go all out and grow a live wall inside the office. If you're feeling really ambitious give your employees a place to go on their lunch hour and start a community garden. If you have an easily accessible roof it's a great place to start one. Otherwise, a small flower garden in the yard outside could brighten someone's day.
Summer 2018 at Home
When they come home from they want it to be a sanctuary where they can feel free to sit back, relax, and enjoy their own space for a while. If this isn't the way you feel when you come home from a long day of work it's time for a change. Or, if you're part of the growing work-from-home contingent, all the more reason to make your space your own!
Updating the Kitchen
Completely white kitchens were hot a few years ago but some would call them boring. Bold colors and textures can spice up the kitchen just as they do the office. Do you need new appliances? Replace your old ones with funky colors. Producers everywhere are making appliances in the colors that you want. Do you want a bright red noodle maker, a radiantly blue handheld mixer, or a neon orange teapot? You name it, you can find it!
Not ready to embrace color just yet? Instead, try adding some brass accessories to the kitchen. freshome says that brass is the most popular finish this year. Replace that old stainless steel kitchen faucet with shiny brass. It makes a great focal point in the kitchen. Next, replace your plastic utensils and hang brass serving spoons and spatulas on the wall. Not only does this give them a great place that's out of the way but could also be really pleasing to the eye.
Geometric Shapes
Everything 1980s is back. That includes eye-catching geometric patterns on everything from throw pillows to wallpaper. Introduce patterns like herringbone or chevron. Even funky-shaped tables and lamps are showing up. If you feel unsure about this one, start with small accents. Mix and match patterns and colors. Look for geometric shapes to show up in some of the season's hot colors like the above-mentioned ultraviolet, as well as red and indigo.
Don't Forget the Ceiling
Coastal Living calls ceilings "prime eye-catchers" when done right. Some call them "statement ceilings." Use color, texture, or even wallpaper to make yours pop. Remember to choose lighting that brings out the best in your ceiling. One that is too dark can make a room feel small and cave-like. If you want to go all out, hire a muralist and commission your own unique ceiling art.
Being stuck indoors can be a real drag! That's why whether you're revamping your home or your office, do it in a way that will lift your spirit, motivate your employees, and attract customers. Summer 2018 is a great time to inject some new life into an old space. It may take hard work but it pays off in the end.
PHOTO: Pixabay / CC0 Public Domain