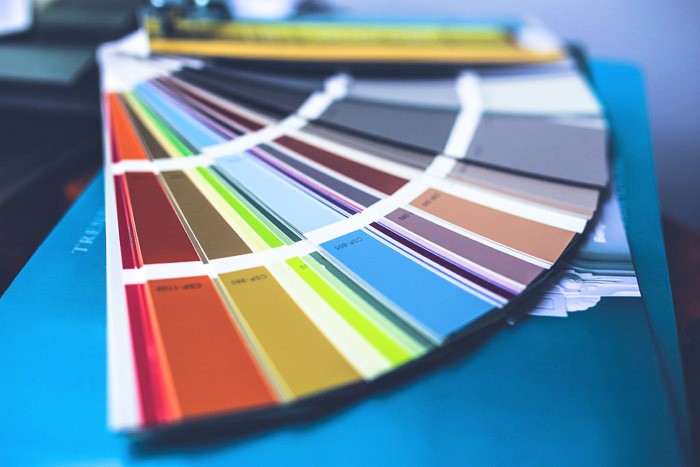 24 Oct

How to Choose the Right Colors and Fonts for Your Brand

Have you ever picked paint colors for your house?

It sounds simple enough. You head off to any number of available "paint barns" and then stare at color samples for hours. Rarely are we able to quickly narrow down our options. We hem and haw until we end up with a card deck of paint swatches in hand. Then we run home for the final round. After much debate — and likely some consultation from trusted friends and relatives — we finally come to a decision on "the right color."

Why did you end up with that color? While "Because I like it" might be a valid reason for paint colors in the home, it's not going to cut it when choosing colors for company branding. Ditto when it comes to fonts for your corporate logo and brand.
The Right Color
Multiple factors can contribute to discovering the right color for your brand. Make sure you take the time to brainstorm about how each factor would influence your brand for the better — or for worse.
Emotional Response
When we're exposed to a particular color, it can evoke an emotional response in us.
For example, bubblegum pink has been found to have a relaxing effect on people. So much so that some sports teams have been rumored to paint their visitor locker rooms in this soothing palette in hopes of messing with their opponents' psyches.
So, give some thought to the feelings that you want your brand to emote from the public. We have listed (below) some emotions generally associated with each primary color. Keep in mind that the specific opacity and tone will affect emotions differently. So while bubblegum pink calms, hot pink tends to excite. The lower the opacity — think pastels — the more soothing the color becomes.
What emotion do you want from your audience? How do you want them to react to your brand color(s)?
PINK:  Feminine, youth, romance, sweet
RED:  Passion, aggression, violence, adventure
ORANGE:  Excitement, inexpensive, youth, autumn (not a favorite among women)
YELLOW:  Happy, friendly, cautious
GREEN:  Natural, prosperity, money, stability
BLUE:  Tranquil, trustworthy, professional, authoritative (generally a favorite of men as well as women)
PURPLE:  Royal, luxurious, romantic, creative
BROWN:  Dependable, natural, simple, sturdy
BLACK:  Authoritative, strong, refined, mysterious
Following the Trends
The popularity of each color varies from year to year. Thus, it's important to pick one that appears current to your audience.
Since colors used in branding a company don't typically match the cutting-edge colors used in fashion, it's important to consult trends that are appropriate. Companies have been built on predicting which colors will be popular each year. Pantone, for example, releases color-trend predictions seasonally and selects a "Color the Year" for the upcoming year each autumn (2016's Color the Year was a pairing of Rose Quartz and Serenity). Their website even includes a service for selecting the right color(s) for branding purposes.
Industry Standards
Also not to be overlooked are the colors common to your industry.
For example, technology companies love blue and black and the varying shades of each. So, if you are based in Silicon Valley, those colors might be worth considering.
But that's not to say that all brands follow that predictable pattern. Some intentionally go outside the box and pick unexpected colors in order to garner more attention and be unique within their industry.
Something else to keep in mind: Some companies have trademarked certain colors within their specific industry – Tiffany Blue in the jewelry industry, for instance, or brown for delivery services, to name just a couple.
Combinations
Branding usually identifies a family of colors that may be used depending on the circumstances.
Two colors might potentially be selected for the brand logo. Two other colors may be optioned for use in collateral or supporting art. All these colors need to play well together.
How these colors interact can also change the emotional response from your audience. Say, for instance, you select dark brown as a brand color. That could be too bland and lack the emotional punch you're looking for. But pair that brown with a vibrant pink — then watch as the heads turn.
The Right Font
Fonts (sometimes also called "typefaces") can be tricky. We may find ourselves emotionally attached to a font, but we need to stop and think if that attachment is for the betterment of the brand. Consider some important factors in choosing the right font.
Category
There are probably just as many fonts as colors. Fortunately, many of these can be found on organized and user-friendly websites. Since your color brainstorm already revealed the top emotions inherent in your brand, perform a search based on those results. You can also perform a search based upon your industry or subject matter.
Here are some top websites to help you get the right response out of your brand's font.
Myfonts.com — This site's useful and robust interface allows you to type in the text used for the font preview as well as some other good visuals.
Dafont.com — Here, the mixture of amateur and professional fonts available will vary from free to pricey. But the menu of categories will help narrow down the list from thousands upon thousands to a more manageable hundreds (or less). Note: Be sure you have proper usage rights; these are notated on each font summary.
Fonts.com – The site boast great font previews and visuals, combined with powerful search and category functions.
Timelessness
Once you establish your branding, you may not want to have to redesign it every couple years. So, consider a classic, tried-and-true font.
Some fonts have endured decades without too many signs of aging. For example, the typeface Helvetica has been around since 1957. Yet, it continues to be one of the most popular and classic fonts available.
Combinations
Brands often establish multiple core fonts to support their varying applications.
One font may be used in the logo. Another might be selected as the font for body copy in articles. And so on.
Make sure the fonts are visually complementary. So, if you have an ornate font for article titles and headlines, you might consider a standard serif font like Times New Roman to handle any paragraph copy.
Multiple Options
Be sure to allot adequate time to the brainstorm of colors and fonts for your brand. Select multiple options. See how the colors affect your font choice and vice versa. Get outside opinions of industry professionals. Before you know it, you'll be able to stand back and admire your brand. And, more importantly, your audience will, too.
You might even find that the next time you have to pick paint colors for your home, you'll say, "No problem. I've got this."
Photo credit: kaboompics.com