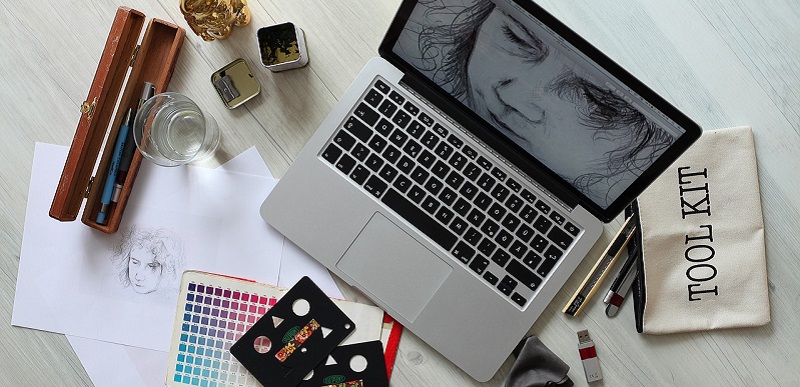 08 Sep

A Day in the Life of a Graphic Designer

Some people say it's impossible to make a living making art. Graphic designers are a living testament that it is not. These art-savvy, often caffeinated people are among the most important in the creative industry. They give vision to visuals. So what does a graphic designer do exactly?

Graphic designers create visual elements of campaigns, ads, websites, and even company logos. The may combine artistry with technology to lay out digital or printed material. Overall, they ensure that a company's collateral is aesthetically pleasing and accurately reflects the brand. They closely collaborate with copywriters to develop engaging content.

A graphic designer may specialize in specific types of collateral. Some handle marketing materials such as brochures and print ads. Others create the look for a product's packaging. Still others work in publishing houses as illustrators and layout artists. There is not "typical" day, but let's look at some of their regular tasks.
Tracking Tasks For The Day
Even creatives with short attention spans can develop time management discipline. Time management is a crucial skill for graphic designers. An efficient graphic designer creates a schedule for the day or week ahead. Then, they prioritize. Due dates play the most important part in this process, and designers need to be flexible. A freelance designer may juggle assignments for numerous different clients, who all have their own deadlines. Even a designer working "in-house" for a company must manage multiple projects and deliver on time.
Aligning With Clients and Peers
Graphic designers work alongside copywriters, marketing managers, programmers, and creative directors. While working on a project, a graphic designer needs to align with their colleagues to ensure the cohesion of their work. As a team, they may discuss new directions and adapt projects as they progress. Graphic designers also meet with clients, either one-on-one or as part of a creative team. They need a strong grasp of the clients' needs and ideas. A freelance graphic designer may schedule meetings with potential new clients to present their portfolio.
Creative Process
After every aspect of the creative team is aligned on the vision of the project, the actual designing process begins. Many designers rely on the Adobe Creative Suite. The program contains creative tools such as InDesign, Illustrator, Creative Cloud, and Photoshop. Graphic designers study the use of these tools during their time as a student. However, they must keep up with changes as software evolves and new products emerge. Graphic designers spend most of their working days in front of the computer. It takes hours, days, and sometimes weeks to perfect a particular design. Since creatives spend so much time at the computer, some are opting for stand-up desks or other alternatives to sitting, as this Creative Bloq article explains.
Making Revisions
Revisions are an unavoidable part of the creative process. At times, the vision of the creative team and the client take different directions. And nothing is perfect on the first try. Designers learn to accept feedback and make revisions. Strong communication with the client can minimize later changes, but they still happen. Some designers express frustration that clients don't realize how labor intensive seemingly small changes can be. Changes in size and format can sometimes take hours.
Client Approval
Gaining final approval from a client sometimes feels grueling. Often a company has numerous people in leadership roles who all need to sign off on a project. Usually, those people disagree about at least a few details. Because of this, graphic designers have learned to be patient with the demands of their job. They learn not to take criticism personally and to respect the client's wishes. Some clients make unreasonable demands. Just as in any job, stress can mount, and designers might need to vent frustration to their coworkers or if they work from home, even their dog.
Daily Dose Of Caffeine
It's not a secret, many creatives thrive on caffeine to meet the demands of this industry. Graphic designers work long hours to meet deadlines. Many designers joke that they couldn't do their job without caffeine. Cheers to coffee!
Graphic design is admittedly not the easiest of careers. However, making a living out of art can also be a dream come true for many. However, like most jobs, graphic design requires a lot of knowledge, patience, and creativity.
PHOTO: Petra / CC0 Public Domain