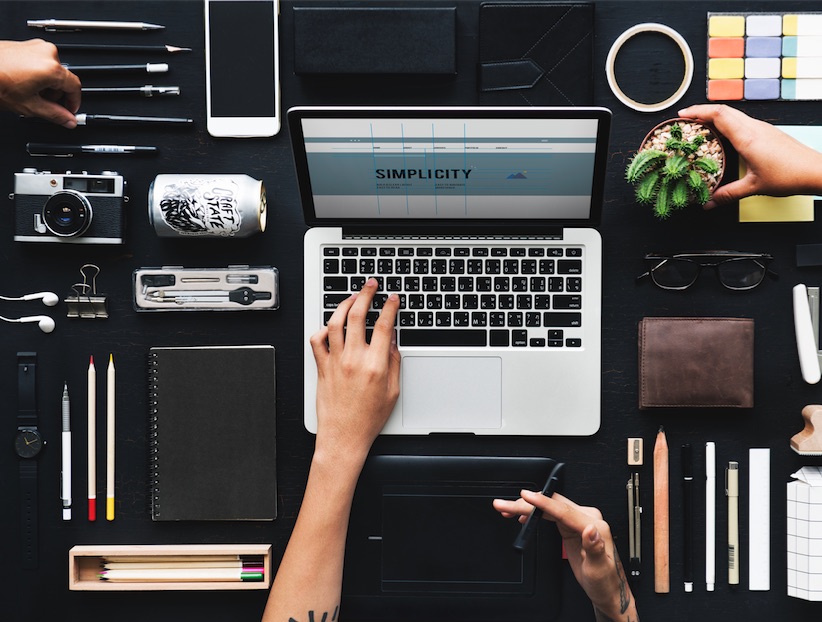 28 Jan

What to Know Before Starting Your Own Graphic Design Business

Companies often outsource their graphic design work. Even creative agencies are increasingly relying on freelance designers to complete projects. That means designers are also becoming entrepreneurs, whether it's full-time, part-time or side projects. It might sound like fun–and it can be–but it's a business, nonetheless, and it's competitive. Here's what you need to know before you start your own graphic design business.
Legalities of Starting a Business
You'll want to make sure your business is set up legally to be a valid member of the marketplace. That starts with your business name. Will you go by your own name to match your taxes? Will you choose a variation of your own name or create something completely different? Choose one to coincide with your brand image (detailed later).
When you choose your name, check it with the U.S. Patent and Trademark Office (USPTO) to see it is taken or is too similar to other businesses. Consult a lawyer to help write contracts with clients, employees and other freelancers or project partners. You'll also need to consult an accountant to find out how much you'll need to reserve for taxes as a self-employed individual. Your local chamber or Better Business Bureau and the U.S. Small Business Administration should be able to help.
The Perfect Location
Depending on how many people you plan to hire, you have a variety of options. Where will you be the most creative and the most productive? Where will you get the most benefit for your business' success?
A New Office
If you've got a full staff or if you have the resources to open up your own space, you can design it in your brand image and display your work. This is great for looking professional and being able to invite teams to your place of business for meetings. An office is another branch of your image that clients can see, interact with and be in.
Shared Office Spaces
Shared office, or co-working, spaces are becoming common. You can rent them for a day a week or long-term. They can be quite distracting for some people, though, especially if there is a guy who cannot control the volume of his voice while making a personal call. However, these have benefits, such as a wealth of new clients or partnerships. It can also be a great networking tool. Some even offer gyms or cafeterias.
Home Office
Working from home has its benefits, such as saving money and flexibility. A home office also distances you from socializing and networking. It can also be distracting or hard to manage time when there's a new Netflix show to binge-watch, especially if you don't have a designated office space within your home.
Defining Your Brand
Before launching your business, you'll want a business strategy, including marketing. You'll want a direction. Some people may want to try to catch as many clients as possible with no real focus. However, that may not be in your business model and may detract from your brand and muddle your messaging. That doesn't mean you have to decline every project that doesn't fit your focus. Sometimes your experiences and who you know have already shaped your brand. A history of side projects that you've been passionate about can help you brand and gain more clients. Here are a few things to help define your brand.
Differentiate Yourself
There are a lot of talented people out there. Explain in your positioning statement and your branding what exactly makes you different than other designers and design businesses. Maybe you excel in packaging, industrial design, brand image and personality, in-depth study of buyer behavior and color psychology, typeface, or portraying emotion. Define your strengths and weaknesses. Exploit your strengths, and be prepared to partner with someone else to cover your weakness.
Create a Logo
If you're opening a design business, you're going to need a logo that looks like you're a professional designer. It needs to accurately exhibit your work and brand personality. If you focus on green design, you might choose a green logo with a tree or leaf motif. Do you want to be bold and exciting, classic and unassuming, sleek and modern? Let your logo represent what you want to be. You may also choose to patent your logo with your business name.
Finding Clients
If you're starting a business, you're going to need clients to actually work and make money. It can take a lot of effort, especially if you aren't established in your field and well-known. It's important use all resources at your disposal.
Stunning Portfolio
Every designer needs an impressive portfolio, at any stage of their career. What was the project and the problem you needed to address? How did you solve the problem, and why did you make the decisions you did? What was the effect of your design work?
Wowing clients with your portfolio's work can certainly get you in the door, and you keep them interested by telling them how you can solve their problems. Extend your work's reach by posting a photo on LinkedIn or Instagram and talk a bit about it. Be sure to find out from clients or previous employers what you can display or talk about.
If you don't have a portfolio, take classes in which you can use your talents. Or offer your skills to non-profits pro bono, and use your personal passion pieces.
Network
Just as important as a portfolio and marketing yourself online is networking in person. For introverts this can be a daunting task, but it's manageable when you make meaningful relationships with a select few with whom you really click. Be involved in the world of your ideal client. If you want to be in the growing world of green technology and services, go to trade shows. Volunteer. Make sure that your target client knows you're around, engaged and passionate. Show yourself as an authority by submitting proposals to talk at a design conference if it's an idea that sets you apart.
Use Your Previous Clients
Use your previous clients to your advantage. Be sure to not break non-compete clauses. Ask them to refer you to others or for referrals. Request testimonials for your website, portfolio and LinkedIn. Your existing relations are the most underused resource available to you. So many companies are focused on growing with people who've never heard of them, but there are other ways to grow a loyal customer base.
Pricing
Price your time, talent and effort as you see your worth. Don't undersell yourself because people will expect that from you. Make sure they see you as worth the price they'll pay. Find out competitive prices by asking around with other freelancers or friends who work at companies that outsource design. Sites like Bonsai also allow you to see what freelancers charge.
Starting your own graphic design business can be difficult and time-consuming, but it can certainly be worth it. Good luck with your ventures!