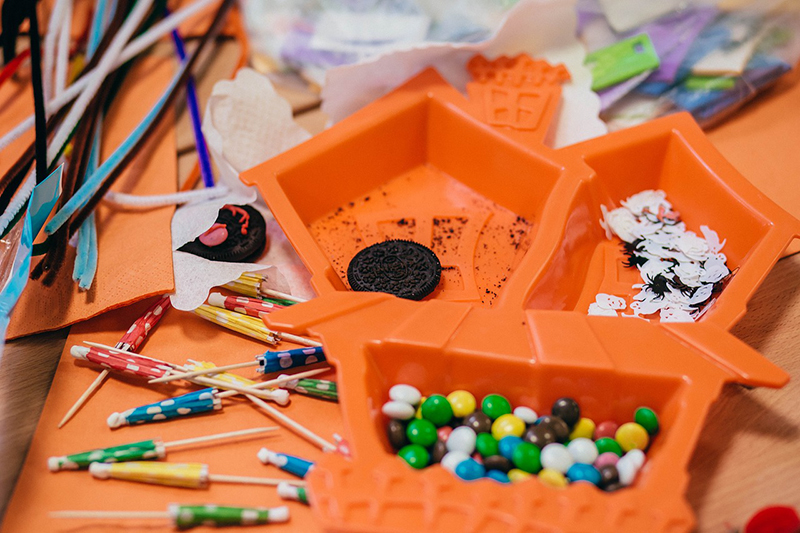 09 Oct

Try These Pumpkin-Themed Crafts for Fall Fun

You know it's officially fall when pumpkin products are everywhere! Pumpkin spice lattes, pumpkin-scented candles, and pumpkins available for purchase at grocery stores. If you're looking for some festive pumpkin-themed crafts for Halloween, Thanksgiving, or just to celebrate the season, these pumpkin projects are sure to get your family in the autumn mood.
Wine Cork Pumpkins
Have you been collecting wine corks for a crafts project? Try out a tip from Good Housekeeping and turn them into a pumpkin! This is fun for adults and kids alike. Paint one end of the cork orange, and gradually stack and glue them together other until you achieve a pumpkin shape. Use felt or found objects to make facial features. You can proudly display it all season.
Pumpkin Paper Plates
This fall season, pumpkins don't have to be actual pumpkins. Glued To My Crafts has an activity that you can do with your kids that won't cost much money and will light up your home for years to come. For this project, you'll need; paper plates, orange tissue paper, glue, scissors, green and brown card stock, a stapler, and a pen.
Start by cutting up pieces of the tissue paper and cover the entire plate in a thin layer of glue. Let your kids place the tissue paper anywhere they want on the plate, covering it completely. Then allow the plate to dry. While you wait, take the green card stock and trace your child's hand on it to create leaves on the pumpkin. Then, cut a rectangle out of the brown card stock for the stem. Once the glue has dried, staple the leaves and stem onto the plate. If you want the pumpkin to have a face, you can use black card stock or construction paper to cut out different shapes for a jack-o-lantern.
Patterned Pumpkins
Are you a fan of classic jack-o-lanterns, but don't want to deal with the mess of cleaning out pumpkin insides? You don't have to! Good Housekeeping suggests getting a variety of different sized pumpkins, some paints, and having fun painting your pumpkins with a variety of colors. Enjoy complete artistic control over how the pumpkins will look instead of using those tired old templates to make faces on pumpkins.
Pumpkin Patch Notes
Looking for some autumn themed greeting cards? Your kids will love getting their hands messy for this craft. Make and Takes suggests using; a folded piece of white card stock, orange paint or an ink pad, green paint, a paintbrush, and a thin black marker.
Have your child dip their fingers in the orange paint or the orange ink and make fingerprints along the bottom of the card to resemble pumpkins. With the green color, paint small stems growing out of the pumpkins and then wait for the paint to dry. Once the pumpkins have dried, take the black marker and add faces to the pumpkins to make jack-o-lanterns. From there, you or your child can write "Happy Halloween" or another similar message at the top of the card.
Create a Gourd Display
Are you looking for the perfect centerpiece for your Thanksgiving dinner table? Consider creating a gourd display. All you'll need to do is go out and buy gourds of different sizes, shapes, and colors. Arrange them to your heart's desire for a perfect autumn-themed centerpiece.
As the autumn season progresses, consider these fun and simple pumpkin crafts to try something new and get your kids involved. We guarantee you'll never be pumpkin-less for decorations for a long time.
IMAGE: Pixabay / CC0 Public Domain