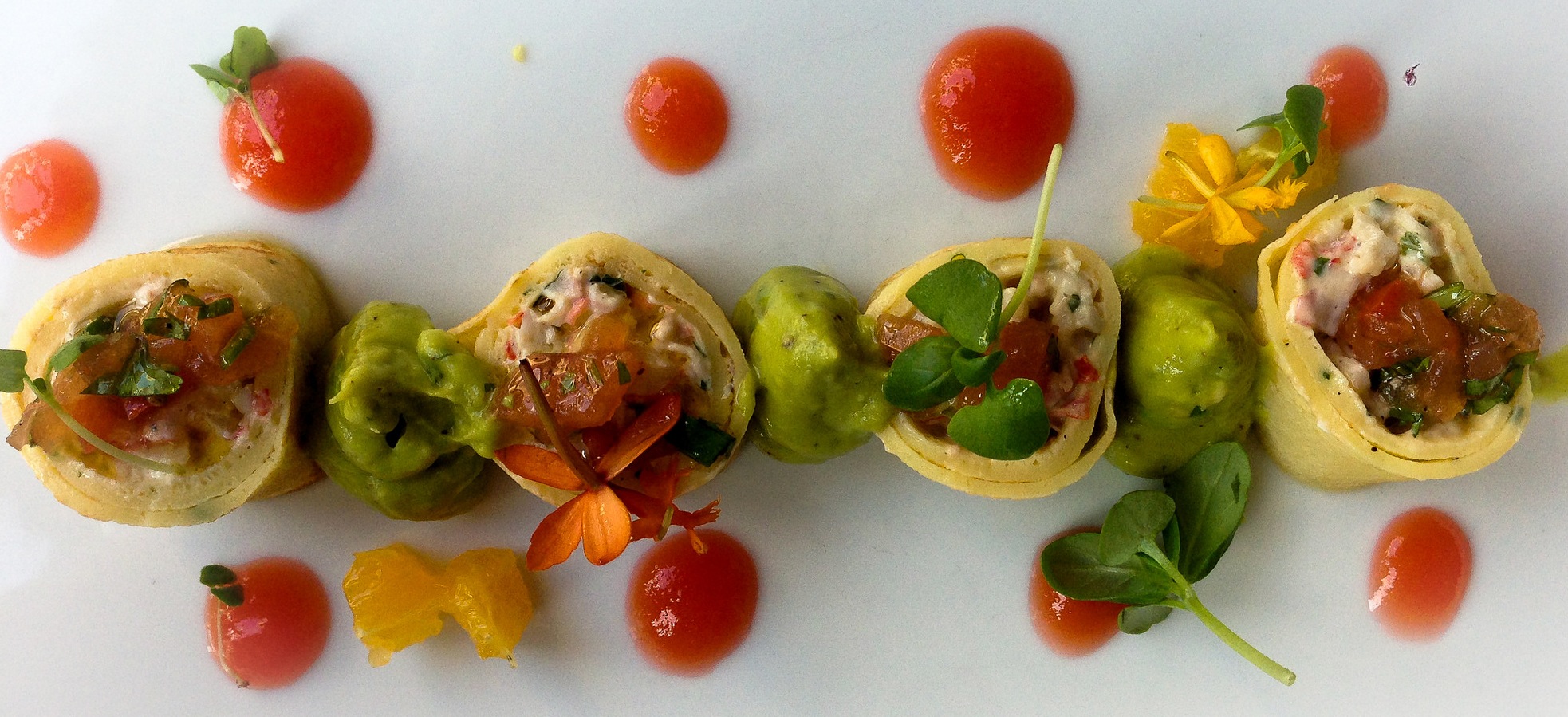 09 Sep

How To Make Your Food Look As Good As It Tastes

Is it your turn to host the next dinner party? Impress your guests with a meal that looks as good as it tastes!

In the art of cooking, presentation is key. When the food looks great, your guests mouths' will be watering before they even take a bite. By cooking, creating, and serving your guests a complete dish rather than serving themselves, proper proportions, cleanliness, and an upscale experience are all enjoyed.
The perfect plan
Start brainstorming ideas of what you'd like to prepare. A simple classic dish for your family backyard BBQ? Or do you have an adventurous group of palettes that are craving a meal that is entirely new.
When brainstorming, think of what colors you'd like to include in your dish. Challenge yourself as a chef to use as much color as possible.  Adding fruits and veggies are a great way to add a pop of color alongside chicken, potatoes or fish. Try out different foods and new pairings and arrangements-have fun with it!
Regardless of what dish you select, planning ahead is key! Prepare anything and everything from the recipe and grocery list to tableware and drinks ahead of time.
Be sure to set out all of your tableware to confirm you have enough to serve all your guests.
Preparing ahead allows for less stress for you as the host the day of, allowing you to focus on your guests and enjoying yourself!
Create a canvas
Simplicity is key. All eyes should be on the food! Large, white plates flatter any meal and provide a modern feel. But don't let this stop you from experimenting with with color and shape! Square and oval plates offer a unique touch. Explore some unconventional surfaces to present your food on such as a slate boards to wow your guests.
Make sure your plates are large enough to let each food item stand out but small enough that the portions don't look tiny. Regardless of the size of your plate, be sure not to overfill it. Food needs to breathe too!
If you and your guests are looking for a healthy meal with less calories, think "small is smart." By using plates with a small basin for holding food but a large rim, the serving size appears 50% larger. Additionally, drizzling sauce on the rim visually expands the portions as well as adds an aesthetically pleasing touch.
Must-Have Ingredients: Color & Texture
We often "eat with our eyes" therefore, color and texture are as important as the food tastes.
Color
Avoid a monochromic array of foods. A plate looks much more appetizing with a wide range and contrast of colors. Look to fruits and vegetables to bring color to the table. Some of the most vibrant yellows, purples, and pinks take the form of fruits and veggies. Lemon, lime, and orange wedges are a great way to add a burst of color and flavor alongside the main dish.
Texture
Texture is also very important to take note of. If your food looks too mushy, rough, dry, or oily, your guests may not be too excited to take that first bite. Carefully cook each item to ensure love at first bite!
Additionally, try having an array of textures across the dish! If you made a smooth steak, top off the accompanying salad with some crumbly feta cheese, craisins, or nuts. Enhancing texture adds an element of surprise to each bite.
Tasty Techniques
Take off your chef hat for a moment and channel your inner artistic side…
Try different creative approaches
Add a layer of flavor by sprinkling your plates with dark cocoa or coffee grounds. Utilizing garnishes such as fresh chives, mint or parsley also adds an accent of color and dash of flavor.
Cut and arrange your food in new ways. Cutting your vegetables into interesting shapes is a simple way to make the dish fun and unique.
Adding height can make a plate look more interesting and lively. Simply layer and stack food items and ingredients to create beautiful depth.
Similar to asymmetry in design, asymmetry on a dish is interesting and modern and evokes movement and vitality.
Establish a focal point. Using sauces and garnishes can help frame the focal point. Take a few steps back to look at the plate as a whole like a work of art.
Experiment and have fun but always remember to be neat.
The main course
Vegetables
The way you cook your vegetables have a major effect on the visual appeal of the overall meal (no pressure!). Vegetables that are overcooked tend to lose their color and look less appetizing. Aim to cook veggies to a yummy slight crunch while maintaining their color. Lighting steaming, roasting, or sautéing usually does the trick. Avoid boiling as veggies usually get mushy and lose their color. Your vegetables will look delicious if they are bright, perky, and fresh!
Meat
Searing your meats caramelizes the sugar and browns the proteins, resulting in more appealing color and flavor. After searing the meat, be sure to let it rest for several minutes before cutting to allow the juices to absorb back into the meat.
Whether it is pork chops, chicken, lean beef, scallops, or salmon, the glimpse of a brown crispy sear is bound to make your guests' mouths water.
Fried Food
It is extremely important to cook fried foods carefully. Even though oil dripping may be appetizing to some, you don't want to ruin the overall presentation of the dish. After frying to a golden brown, let the food drain on paper towels and a plate to absorb the extra oil.
After experimenting with new palettes and cooking each item to perfection, don't be surprised to find your guests waiting at your doorsteps each evening eager for more!
Plan, experiment, cook, and enjoy. Bon appetit!
Photo credit: Dale Cruse / CC 2.0