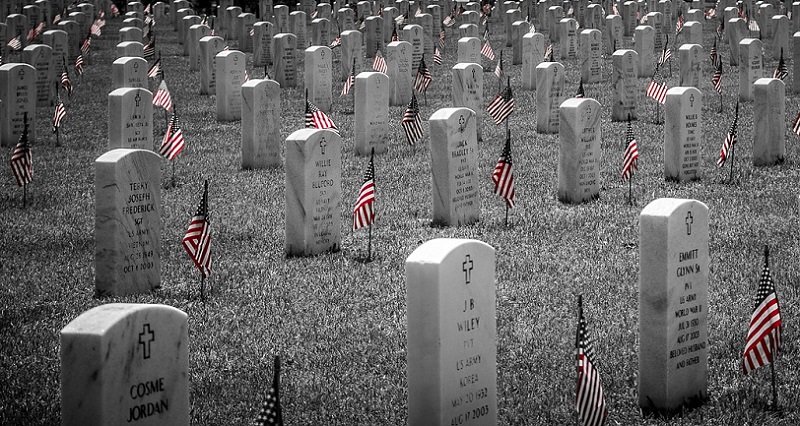 10 May

How Your Business Can Recognize Memorial Day with Respect and Celebration

Every last Monday in May is part of that three-day Memorial Day weekend that inspires barbecues, outdoor parties, and early beach getaways. It's sometimes easy to forget the significance of the holiday, but you can balance the reflective and festive aspects of that date.

As a business, you may choose to recognize the holiday with decorations, special offers, or even taking part in a parade. Learn more about recognizing Memorial Day as a time to celebrate the coming summer, while also paying tribute to the service men and women who are no longer with us.
Why We Celebrate Memorial Day
Northern and Southern states still debate about who was first to formally recognize deceased soldiers. However, military.com tells us that it originated in 1868, honoring Civil War casualties. It then became a national holiday to honor all veterans in 1971. In 2000, President Clinton instituted the "National Moment of Remembrance Act." It specifies a moment of silence or the playing of "Taps" at 3 pm on Memorial Day. The holiday takes place at the end of May because that's when many spring flowers are in full bloom, to place on soldiers' graves. (This practice gave the holiday its original name, "Decoration Day.")
Around this time you'll likely see a lot of people wearing red poppies. In 1918, the poem, "In Flanders Field" by Lt. Col. John McCrae inspired teacher Moina Michael to look for flowers as a way to honor the fallen. She collected artificial poppies and sold them. She used the funds for veterans in need. Representing sacrifice, National Poppy Day occurs on the last Friday before Memorial Day.
Decorate Your Business for Memorial Day
There's nothing wrong with decorating your business with red, white, and blue bunting, balloons, streamers, banners, and miniature flags. You should! However, you can also have employees wear buttons and poppies, and lower full flags to half-staff. In the same way that businesses have "Employee of the Month" walls, profile employees who are veterans or part of military families, including those deceased. Show support for the families of active, deceased or disabled veterans by setting up collection boxes for money, non-perishable goods, and other necessary items. Partner with any local veterans' organizations to learn what they need first. Additionally, hang signs to let veterans know of any specials, discounts, and free services or meals.
Recognize Memorial Day Through Marketing and Community Engagement
Arrange a team meeting, and discuss all of the ways that you can show company appreciation for Memorial Day. Ideas include:
On your website, link to historical facts, local community events, and national organizations. Add flag and poppy buttons that hyperlink to charities.

On your blog, create a series of Memorial Day blog posts that relate to personal experience and to your company's industry (décor, parties, recipes, automobiles for veterans, etc.) Suggest volunteer opportunities at veterans' hospitals, cemeteries, and civic halls. Deployed military often need assistance with their pets; point readers to organizations such as

Dogs on Deployment

and for possible ways to help.

On social media, share stories, historical trivia, and photo to

engage your community through social media

. Use hashtags, and post videos of your participation in events or contributions to local causes.

Tie your email promotions to the holiday. Create clever email subject lines, incorporate red, white, and blue, and evocative imagery. Show images like bowed heads, people holding their hats off, or posing in contemplation. But don't ignore the fun side to the end of May either. People are planning their vacations and getting ready for summer, so choose promotions that fit their plans.

This is a good moment to think about a

community service project for your group,

perhaps at organizations that provide meals and vital services to veterans. You can also join the neighborhood parade, and set up a table at Memorial Day festivals. Since the day brings heavier feelings to many adults, remember to include coloring pages, face painting, games, or arts and crafts for kids, to ease some of the weight.
This year, Memorial Day is May 28. Does your business have certain ways to celebrate and pay tribute, or will you be doing something new and different?
Happy Memorial Day! And to all of our active duty men and women, veterans, and their families, thank you!
PHOTO: Pixabay / CC0 Public Domain