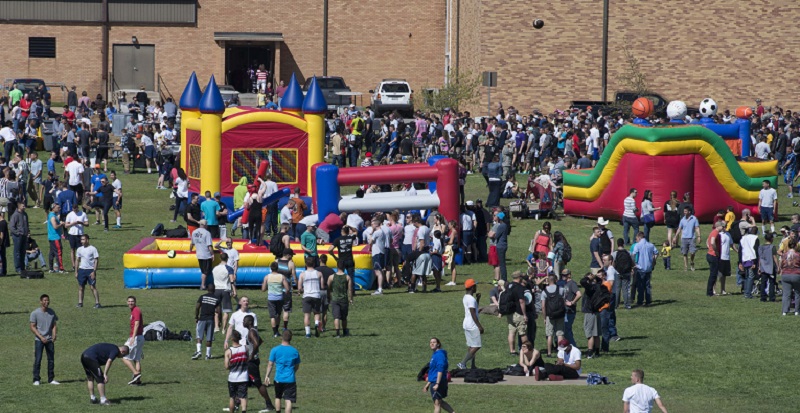 19 Apr

How to Host an Amazing Company Picnic

A summer company picnic is a fantastic way to bring your employees together outside the office, have some fun, and raise morale. Hamburgers or veggie burgers, volleyball or sunbathing – who doesn't like a picnic? A lot goes into planning a memorable company picnic that meets a lot of diverse interests. If you're planning for a big event or including professional entertainment, it's not something you can throw together the week before. Get started now!
Eight Things To Keep in Mind When Planning Your Company Picnic
These things are all important but not listed in any particular order. Nailing them down can lead to all kinds of fun for everyone at the event!
1. Date and Time
Whether you're tying your picnic to a special date for the company, like an anniversary, or you're flexible, choose well. The date and time can affect other factors, like location, food, and entertainment. Will you have the picnic during your workday, when you know employees are there? Will you hold it on company property, or take the celebration to another location?  To be safe, you'll probably want to start planning 3-6 months in advance, partly because your chosen location, if you choose an offsite venue, could potentially book up early.  
2. Who to Invite/Size of Party
There are a variety of groups to consider here. Do you want to invite just your employees? Their kids and family members? Clients or customers?  This is the first decision you'll need to make, and it will affect the rest of the planning.
3. Budget
To use company money wisely, you'll have to compare a variety of vendors. You should include categories for food, venues, entertainment, promotional items, and miscellaneous, just in case. Event Solutions offers a great explanation of how to ensure you get all your picnic expenses in your event budget.
4. Location and Amenities
If you're having the picnic on company property, that may make things easier as far as setup. You can ensure access to bathrooms, garbage cans, and hand-washing stations. If you take your picnic off-site, ensure that the location has adequate amenities and that you can follow the regulations of the venue. Some may put limits on what you can do and where you can do it; they may also require that you get event insurance or bring in lighting for your event.
5. Food and Drink
Event Wizard Pro suggests estimating how much food you'll need by using this formula: Multiply your employee count by 2.56 for employees, spouses and kids; use 1.52 for just employees and their significant others. Then create a menu that includes options for just about any group. You can always poll your employees to get a head count and ask for menu suggestions before you get too far into your planning, to get ideas. Online surveys from Typeform or Survey Monkey are great to gather that sort of stuff.
6. Entertainment Options
What are your attendees going to do when before and after they eat? You'll probably want some games – volleyball, badminton, or cornhole. Even consider croquet if your venue will allow you to place the wickets. Do your employees like sports, crafts, or listening to live music? Also remember activities for kids, if kids will attend. Consider people with differing abilities, too, so that you offer something everyone can enjoy.
7. Giveaway Items
A picnic is ideal for branded promotional content. This is a place to show off your company to your employees' family members as well as clients, customers, and their families. Branded swag, like a water bottle or tote bag with your logo, is something attendees can use again and again. You might give something to every attendee or splurge on specialty items as prizes for games.
8. Safety Precautions
Make sure that your venue is safe for all of your attendees, and that the activities you have planned are safe as well. Familiarize yourself with every part of the venue including the parking area and restrooms. Ask vendors plenty of questions about the safety of equipment like bounce houses. Ensuring that everyone is safe will make it easier to have fun and enjoy the day.
At Logos@Work, we would love to help you have an amazing company picnic, whether you're looking for promotional items, screen printed shirts or a logo for your upcoming event! Contact us today. We look forward to helping you get the word out about your company picnic or event! 
PHOTO: Sheppard AFB / CC0 Public Domain