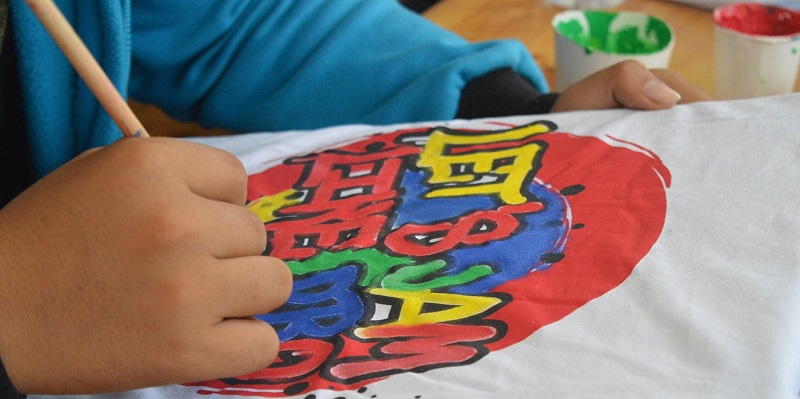 20 Jun

How to Create Amazing T-Shirt Designs

T-shirts are fun for all ages. During summer, in particular, you and your family can express yourselves with T-shirts showing your favorite team, movie, or slogan. But have you thought about creating your own? Great T-shirts start with great T-shirt designs.

So maybe you've been tasked with creating a shirt design for your family reunion, or your organization's fun run. You may need to develop a T-shirt design idea from scratch.

Another situation is that you already have great artwork and wonder how to make it wearable. If you are already an artist, or you have artistic kids, maybe you've never thought of turning your art into T-shirts.

Here's how to make sure your art will look it's best on a shirt, whether you're going to make it a one-of-a-kind creation or mass produce it.
Starting From Scratch
Let's say you have to come up with a shirt idea to make a big group of people happy. Even if you're a professional graphic designer, formatting something wearable may tap into areas you don't often use.
Color Considerations
Your organization's budget dictates some of your choices. For example, plain white T-shirts usually cost less than colored ones. Some vendors offer only a few colors while others offer many. You may want all of the shirts the same color, or you might wish to offer options.
Next, once you know the color or colors of fabric you'll be working with, you can think about the colors in the design. Again, budget may present limitations. Find out whether you need to work in black only, a limited palette of colors, or the full range available in Photoshop. Think about how the colors you use will look on the background color. Will the design "pop"? Will text be legible?
Finally, think about what colors the organization in question normally uses. Consult the style guide if you have one. [link] Look at guidelines for the organization's logo, especially. Do they provide for a monotone or black-only version? Understand your options.
Whichever colors you use, when designing digitally, use Pantone colors. This way you are speaking the same "language" as the printer and will help ensure consistent color. This post offers more digital design tips, which may be too technical if you're just designing for fun.
Print Quality
If possible, ask for samples from the shirt vendor. Learn what image quality you can expect from the final product. Generally, a T-shirt design should be kept simple. Too much detail could mar the effects. The blog Creative Bloq says, "some of the most classic designs have been the simplest and get the message across through their simplest form."
Sketch It On a Real Shirt
Many people overlook this crucial step. You can find a computer program that lets you place the design on 3-D models, but the real thing is best. Or simply pin a print-out onto a shirt, or sketch a mock-up onto a shirt by hand. Try to use a couple different sizes and ask actual people to put them on. If you are designing for children, find a child to model it for you. If your T-shirt will be worn by both men and women, see how it looks on at least one of each. Keep in mind, people come in all shapes and sizes, so the more body types you try, the more likely you are to see anything that doesn't work.
Whether you create your artwork specifically for your T-shirts, or you start with existing artwork, focus on the layout. Not every design will look right on a shirt. Think about the dimensions, the legibility, and curves of the human body.
DIY Image Transfer
Let's say you just want to turn your child's masterpiece into a T-shirt for yourself or as a gift. The process is easy using fabric transfer paper. Purchase it from a craft or office supply store and simply run it through your printer. You will get an iron-on that you can then use on almost any fabric.
Another DIY method is to use a paint pen or other fabric paint. Search Pinterest or Google for many other DIY T-shirt ideas.
Screenprinting is a much more involved and complex option, but can be rewarding and fun. If you plan to make a lot of shirts or are considering making it a business, invest in a screen printer. Here is a tutorial on how to make and use one.
Other Options
Some companies like Photobucket or Zazzle will turn any image into a product like a T-shirt, mug, calendar, etc. So consider those options if you're less crafty. Picture This Clothing makes T-shirts or dresses, and they provide a template for your design. Because, remember, not just any design works on a shirt.
Make Sure You Own It
Just like with a website or anything else, make sure you own the rights to anything you put in your T-shirt design. You have some wiggle room if you're printing it at home, but most T-shirt companies will not print something they know is used illegally. This includes characters from pop culture, likenesses of real people, and images captured from the internet. But, anyway, half the fun of creating your own T-shirt design is originality!
PHOTO: Retno Windaryan / CC0 Public Domain