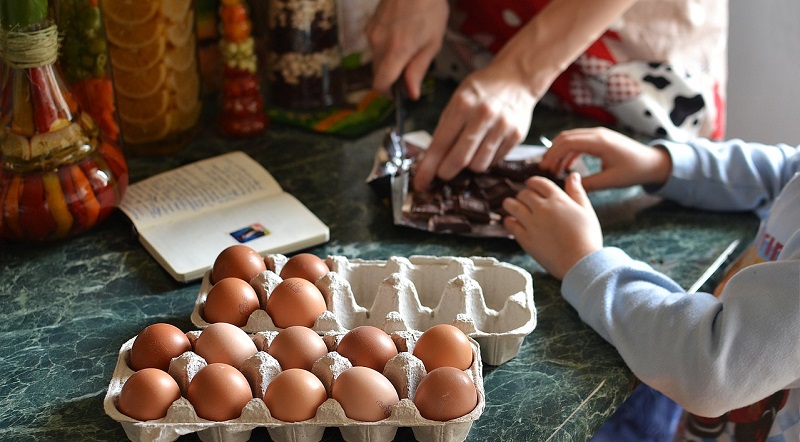 12 Apr

6 Reasons to Teach Children to Cook

It's amazing to see the contestants on "MasterChef Junior," "Chopped Junior," and "Kids' Baking Championship," and to hear them say that they've been cooking for several of their young years. Although not every budding chef will show his or her skills off to culinary experts, they will develop several lifelong benefits. Here are 6 reasons why you should teach children to cook at a young age.
Teaches Nutritional Balance
Sharing preparation with kids is a great way to show why certain ingredients are healthier, and how they can be incorporated into dishes. Instead of sneaking foods into recipes, let them see how pureed fruit tastes as sweet as sugar for cookie batters. Show them how to mash cauliflower and turn it into creamy sauces that they wouldn't scoff at if they didn't know the main ingredient. Cooking teaches kids how to recognize filler ingredients, and how delicious recipes don't need the 20+ ingredients that processed items often have. It also shows them how meals can be made simply and affordably.
Promotes a Healthy Relationship with Food
Many adults develop an aversion to the word "fat," but it's important to understand that there are plenty of foods containing "healthy fats." A healthy relationship with food incorporates examples like nuts, olive oil, and avocados. Rather than label foods as "bad," teach kids about moderation, and how they can enjoy all kinds of snacks and meals and still feel satisfied. As they get older they will–hopefully–favor minimally processed and unprocessed food. You can also teach about portion size, the value of batch cooking, and how to create healthier versions of popular fast food options. If you grow your own vegetables and herbs, show the concept of farm-to-table!
Encourages Kids to Try Different Ingredients and Cuisines
Once they like something, kids tend to eat it consistently. But they're more likely to try something that they helped create. Look over recipe ideas together, and choose a different ingredient to try, once a week, once a month, however works best for you. Explore family and cultural recipes, and adapt them to personal preferences and dietary needs. Time-consuming or intensive recipes such as sushi, can be deconstructed, so your child can still help prepare it, and taste the components.
Teach Children to Cook and Boost Creativity and Independence
Even toddlers can learn cooking. They can hand you measuring cups, non-sharp utensils, and lightweight, non-breakable bowls. Cooking is practical for teens who are by themselves, or watching younger siblings, while you're at work. There's pride in helping around the house and helping to plan recipes. Kids may get creative and surprise you with culinary ideas that inspire them. Let them research holiday recipes kids can make, and invite them to assist with parties, food gifts, and baked goods for fundraisers.
Demonstrates Math and Science in Practical Ways
Kids apply math principles through cooking by:
using fractions to measure ingredients

understanding volume and the differences between measuring dry and wet ingredients

using ratios to check unit pricing, and work within budgets

converting metric directions
They also see science in action:
chemical reactions in baking

liquids turning into solids

how melted butter may affect recipes differently than softened butter

physical reactions to temperatures

how gluten works, and how to find substitutes if necessary  
Strengthens Time Together
Despite the mess, extra time, and sometimes fails, cooking with kids is an activity you can enjoy together. Jaime Oliver frequently posts simple recipes for kids, but there are plenty of personal and professional sites that share cooking ideas.
Don't let safety concerns deter you. Kitchen safety is a priority for all ages, so simply keep these tips in mind:
Keep hair, jewelry, and clothing away from flames

Always use pot holders and cooling racks

Teach how to hold and use knives properly

Show how to properly plug in and unplug appliances

Only stand on secure chairs or step-stools

For very young chefs, use plastic items instead of glass or heavy wood

Teach food safety, by washing produce, and making sure that meats are cooked all the way through

Until kids are of a certain age (which only you can determine), ALWAYS SUPERVISE
Make Memories and Have Fun while Teaching Children to Cook
The best part of teaching children to cook is having fun, and appreciating the moments and memories!
PHOTO: Pixabay / CC0 Public Domain