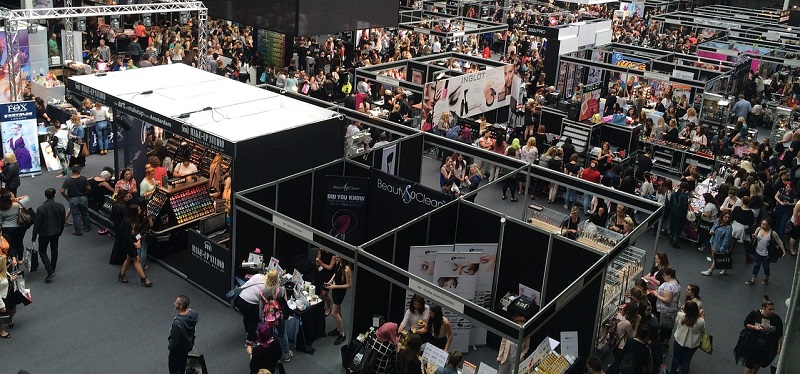 08 Mar

Maximize Trade Show ROI With These Ten Tips

Pack your bags–you're going to a trade show! Some people can't wait for the fun and the social buzz, while others see the bowl of free candy as half empty. However you feel about trade shows, we can all agree that they're an investment and we want to make them worthwhile. Don't waste your company's precious time, energy and resources. Here are ten ways to maximize trade show ROI.

But wait! Before you strategize, agree on how you will measure your ROI. You might make sales at the trade show itself, but you might also generate leads that convert later. Which sales will you count as a direct result of the show? Also discuss how you will calculate expenses. If you invest in a new display, for example, will you use it once, or spread the cost over multiple future shows? Think through all of the costs and possible revenue sources and set parameters for both.
1. Plan a Long-Term Trade Show Strategy
Plan a year or more in advance. That way, you'll balance your trade show activity throughout the year. You might even secure early bird discounts. In addition, when you invest in giveaways you can earn price breaks by buying in larger quantities. Buy signage and displays that last a long time and travel easily from one show to the next.
2. Put Expenses to Maximum Use
Maximize trade show ROI by maximizing expenses. If you're paying for team members to travel to another city, think of other ways to maximize the travel expenses. Perhaps you can arrange a meeting with a potential new client or valuable "face time" with an existing one. Pair an experienced employee with a newer one so that the show time provides training.
3. Train Your Staff Well
Make sure they not only know your products inside and out, but know how to sell them. This might mean teaming up a sales person with a subject matter expert, either in advance or for the actual show. Whomever you send, make sure they model your brand. That means the person dresses the part, presents the right demeanor, and stays on task. You may wish to invest in company-branded apparel for them to wear. Coach the staff in how to approach potential customers. Role play before the show. In addition, gather the staff's feedback afterward to find out what worked and what didn't.
4. Reserve a High-Profile Location
The location of your booth may figure into your expense budget. Organizers typically charge more for booths along a "main drag" or at a high traffic corner. However, it may be worth it simply to ask for a better location in advance. If you check in early enough, you might score a prime spot without an upgraded price tag. Also ask what companies will populate the area around you. A position near a competitor could work for or against you, depending on your strategy.
5. Think Carefully About Your Giveaways
If you choose to give out any "swag" make it useful, memorable and brand relevant. Put yourself in the customer's shoes and think about what item they might want or need. But then, let's say your budget is tight. Rather than buying thousands of cheap items that people will likely throw away, it may be worth buying fewer, more expensive items. Then, host a game or contest that people have to play to win them. Or, only give them to people who take a specific step like joining your email list or registering for a product trial.
6. Promote in Advance
Wherever you communicate with potential customers — your blog, social media, advertising, etc. — let them know about the trade show. Go beyond telling them you'll be there and your booth number. Explain the benefits of visiting you at the show. Mention whether you'll offer special discounts or unveil a new product. Provide incentives to visit your booth.
7. Make Sure Your Booth Reflects Your Brand
Don't just hang up a banner with your logo on it. Arrange your booth to reflect your brand. Let's say you're a tour company and your brand is adventurous and active. Set up a treadmill or exercise bike with a video screen showing breathtaking scenery. Or invest in virtual reality goggles. Even on a small budget, you can engage the senses in your brand.
8. Attend Side Events
Many trade shows include happy hours or networking mixers. Take advantage of these. Keep an ear to the ground for more exclusive, invitation-only happenings as well. Learn from others in the industry what works well on the convention center floor. Make referrals when possible and others may reciprocate. You might also find opportunities to scout for new talent for your company.
9. Collect as Much Information From Visitors as You Can
Find out more than just their contact information. Learn about their needs and how your company can meet those needs, even if it's not right now. Ask where they are in the buying process and what competitors they're considering. Find out whether they use social media to discuss the industry and, if so, be sure to connect with them in your own channels. Let them know you will follow up. Which brings us to…
10. Maximize Follow-Up Efforts
Immediately following the trade show, review the experience with your team. Organize the customer information you collected and sort it into a priority-based timeline. Follow up with hot leads right away, and schedule follow-up with others as appropriate. Enter all contact information into your CRM database. For anyone whose social media information you collected, say hello right away. You can even give a Twitter shout-out to certain visitors on your flight home.
As you participate in more trade shows, you will expand your knowledge. Test techniques just as you would test ad copy or landing pages. Measure your trade show ROI, and you can grow it. Now go and enjoy the show!