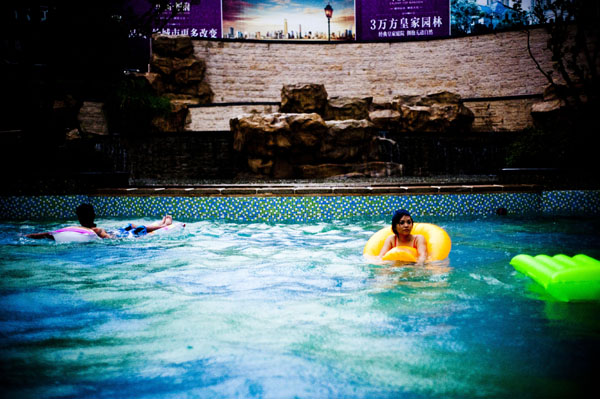 29 Jul

How to Plan the Perfect Pool Party
Now that it's officially summer, it's the perfect time to host a pool party.
Pool parties are a staple of summer fun, whether you use them to celebrate an upcoming birthday party, the end of the school year, the end of a sports season for a team, or just as an excuse to relax with friends. Don't have a pool in your backyard? Don't worry — you can check into local public pools, country clubs, rec centers and other family aquatic centers, which often allow private parties or may even offer party packages.
You can plan a great pool party in just four steps.
Step 1 – Pick a Date
The biggest downside to pool parties is the chance of inclement weather, which can put a literal damper on things, or even become dangerous in the case of a thunderstorm. However, you can't wait for the perfect forecast — you'll need to commit to a date at least a few weeks ahead of time for planning purposes.
To decrease the chances you'll have to cancel, consider creating a backup plan in case of bad weather. That could be as simple as letting people know that the timing of the party can be flexible, making sure an indoor location (such as a pool clubhouse) is also secured, or even setting an alternative "rain date" that you can reschedule to.
The typical guideline for casual party planning is to send invitations at least three weeks ahead of time, but allow yourself a bit more time if the party is more formal. If it's important that you get a big turnout, you should avoid major holidays and pick a date on the weekend. Saturday afternoons are ideal.
However, don't overlook the possibility of an evening pool party in the midst of the summer heat. They can be a great way to relax after work and avoid the sunburns that come along with typical day swimming.
Step 2 – Plan the Decor, Food and Drinks
Add a special feel to your party by choosing a theme, adding some coordinating decorations, and planning the food and drinks to coordinate.
Your decor options might be more limited if you'll be having your party at a public pool, but you can always consider some festive disposable flatware (such as these beach balls plates) with cups and napkins to match. If the party is more for adults, you could consider offering a summery signature cocktail, like this watermelon mojito.
A few popular ideas include a beach theme, a Luau, or even a pirate party (great for kids). However, your friends will have a good time even if you're theme-free, so try not to stress out about this step.
Step 3 – Plan Activities
Most of the fun of the pool party happens on its own as your guests enjoy the pool, but it's also a great idea to plan activities in and outside the pool to entertain the group.
Inside the pool for kids, you can try to organize some classics such as Sharks and Minnows or Marco Polo, or you can try some new games (here are a few ideas for kids).
Outside the pool, you may want to invest in some corn hole sets or a volleyball net.
If you think your guests will be staying after the sun goes down, make sure you have a fire pit and s'mores supplies ready. If the party will be at home, you could even rent a projector for an outdoor movie.
Step 4 – Be Prepared
As party host, you'll be much more relaxed if you are as prepared as possible for all scenarios.
Hopefully you are already familiar with CPR, but if not, consider making sure someone is around who does (at a public pool, this usually isn't a problem thanks to lifeguards). You should also make sure you have a complete first aid kit available for the all-too-common skinned knees, splinters, and bee stings that come along with summer play when kids are involved.
Make sure you have plenty of extra towels on hand for your guests, lots of extra sunscreen, and a few pool toys. Finally, remember to have fun and enjoy your pool party.
Photo credit to green_intruder / CC 2.0