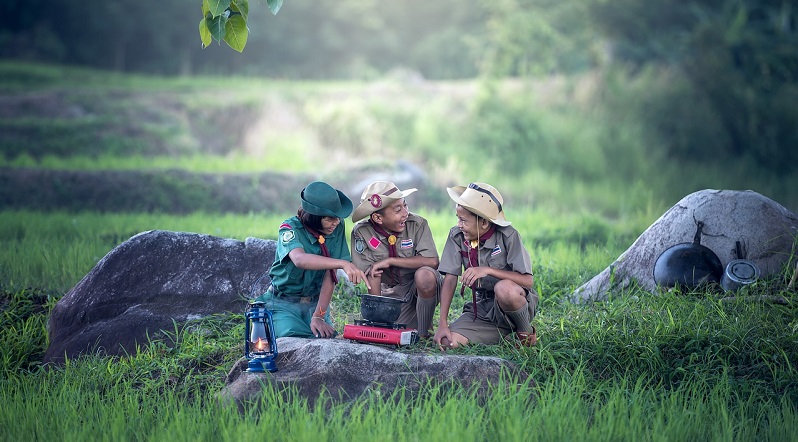 15 May

Find Fun Overnight Outings for Your Scout Troop

As a scout troop leader, you might find it challenging to plan memorable activities. The logistics are complicated, and costs can run high. Besides, there's the pressure to dazzle a bunch of young, eager adventurers! However, scouting provides a place to learn and forge great memories. Special outings will stick with your scouts for the rest of their lives. One of the more exciting options, likely available right in your town, are the overnight outings that many cultural institutions offer.
Zoos, Museums, and More
Zoos and aquariums frequently offer overnight educational experiences. Regular daily visitors may be unaware of the special programs available for groups. Many museums, historic sites, and attractions have also gotten into the act. They tailor programs for smaller groups and offer experiences that they couldn't offer the general public.
At a zoo or aquarium, your experience might include special hands-on time where the kids interact with animals. And, these places often show visitors behind-the-scenes areas. Kids play and learn at the same time.
Then, when the activities are over, kids roll out their sleeping bags. You may find yourself sleeping on a professional ball field or underneath sharks and jellyfish!
Consider Lots of Places
Whatever children are into — art, astronomy, wildlife, sports, ghosts — there is probably something out there that interests them. Search the websites of any public tourist site for group activities. This list of zoos and aquariums and this list of museums can get you started.
If you're still stumped, ask friends, especially ones with older children. They've been through the process before. If you're still in contact with former leaders whose kids have aged out of the program, they may also be able to suggest activities that were done before you joined.
Explore neighboring towns. Sometimes a 45-60 minute drive can open up ideas that you hadn't considered. Getting out of your immediate local area can also ensure that the site and program are new to the kids.
Custom or Standard Programs
Some institutions offer several programs to choose from, so your group can go back every year without repeating material. They may also be able to adapt the training to fulfill a merit badge or to go deep into a particular area of interest. Their instructors may appreciate the chance to try something a little different and learn what makes your group unique.
Planning Your Overnight Outing
Once you learn the details and availability, you may need a committee to approve your plan. You should discuss the fee breakdown and decide if any fundraiser funds will be used to cover scout admission.
When you announce the activity to your group, clearly state the deadline and up-front costs. Don't get stuck paying non-refundable fees for no-shows. 
It is also a good policy to ask that at least one parent from each family attend. In the younger years of scouting, this is a requirement. You can be flexible, according to your group's policy on how many scouts can be claimed by one designated parent.
It is a good idea to ask that the families pay something. Even if the group has fund-raiser funds available, these are special activities. People value experiences more when they invest even a nominal amount. Of course, remain sensitive to households who can't drop a bunch of cash for special activities. Every scout group is different and these policies vary based on the current group.
Pay attention to food provided. Consider scouts with allergies or dietary restrictions, and communicate any special needs. Learn what the venue allows, too. Supply alternative snacks or a backup plan just in case.
Tell the kids what they'll see on the outing. They may want to look up exciting places or animals in advance.
Have a great time!
When the big night arrives, make sure lots of parents bring well-charged cell phones and chargers. Carry phone numbers for the whole group.
Provide a packing list for families so they know what to bring. Consider supplying little extras like toothbrushes, just in case someone forgets.
While you're at the location, follow all rules. Respect the docents or instructors, and heed their safety precautions. Chances are, they have led lots of groups, so they know how to ensure a fun but safe time for everyone. Bring along plenty of adults. Most scout programs have rules of two-deep leadership provide protection for children (from predatory behaviors) and adults (from unfounded accusations.) A good set of rules and procedures goes a long way toward protecting everyone!
Take lots of pictures! Before you dismiss, ask parents to share their photos right after the event. Delegate the collecting of these to your group leaders and provide a shared online folder or Dropbox. You and your scouts will enjoy looking back at your memories for years to come.
PHOTO: Sasint / CC0 Public Domain