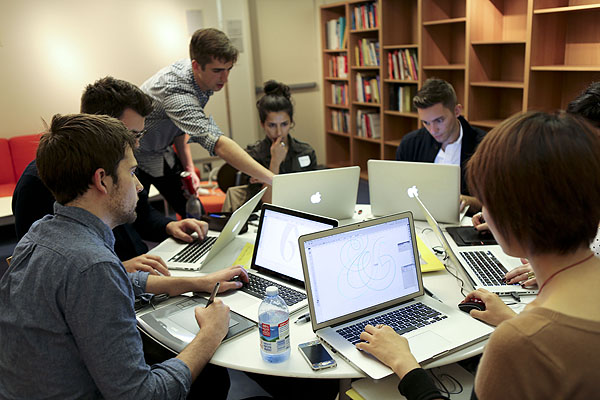 10 May

Creating a Positive Company Culture in 7 Steps
Any business manager knows that the key to a functional workplace lies in its team of employees. Without happy employees who express interest in their work, an organization suffers. The best way to maintain a successful corporate climate starts with creating a positive culture for your company. A positive work culture influences positivity in employees. Read up on some of the best ways to foster a communicative, well-oiled company by cultivating positivity in your workplace.
1. Always let your employees know that they are heard
Whether it is a minor complaint about the coffee maker in the break room, or suggestion for new ways to streamline daily operations, your employees should know that their concerns and input are being listened to and respected. In large businesses, especially, it is very easy for lower-level employees to feel like they don't matter as much as those at the top. For a company to truly offer a positive environment, all employees must feel equally valued. No one wants to show up to a job where they feel non-existent. Creating times, spaces, or forums that allow employees the opportunity to engage with their work and their supervisors is an important part of creating a unified team.
2. Prioritize Diversity
According to Entrepreneur Media, "carbon copies aren't the key to creating an innovative company." It can be tempting to hire people who remind you of yourself and reflect your own skill set. However, these kinds of hiring practices really limit the vast array of skills your company could be integrating into its platform. By making it a point to hire people from different backgrounds with varying skills you will create a workforce filled with diverse people who will appreciate being able to see that their labor is valued. You wouldn't pick a baseball team made up only of pitchers. So, why hire a workforce that values only a few kinds of skills? This also provides opportunities for your workforce to get to meet new people they may not have otherwise, creating an exciting and dynamic environment to work in.
3. Hold trust in high regard
Part of feeling respected in the workplace is knowing that your actions are met with trust rather than suspicion. Happy employees don't have to leave in fear wondering if their choices are being understood as trustworthy or not. The Institute for Public Relations encourages policies that surround honor codes in making their employees feel that their own self accountability will be respected and trusted.
4. Embrace disagreements
Entrepreneur Media also suggests that disagreements in the workplace are something that should be embraced, rather than shied away from. This doesn't mean brawls in the cubicles, but an active and ongoing healthy discourse about company policy, actions, and project management can do wonders for shaking up the status quo. Doing things the way they have always been done simply because they have always been done that way is no way to remain cutting edge. Encourage your employees to challenge each other and their methods. You never know what you might discover when your employees actively bounce ideas off each other.
5. Engage your office in a community issue
A great way to create bonding among team members is to unite them under an issue that affects them all. Create goals for your team that, when achieved, can be turned into donations for local causes. Let employees choose different issues to support and find ways to integrate their working lives into their community lives. Employees will feel more connected to their workplace if they can feel the presence of their job in their community, as well. This also places employees to feel proud of where they work. When they can see their company logo associated with an animal adoption agency or a children's hospital, they'll be happy to tell those around them more about their job and why it's such a great place to work.
6. Hire wisely
When seeking new employees, be sure to ask questions that align with your company's core values. Bringing a new person into an already established community will always alter the work flow for a moment. In order to ensure that your positive company environment is not compromised, seek employees who value the same things your company does.
7. Have fun!
Entrepreneur Media also expresses the importance of having times at work that can be more light-hearted. Throw company holiday parties. Invite your employees to bring their families to a picnic in the park. Encourage socialization and camaraderie among your workforce. When a job feels less like work and more like a team achieving a goal, your business is bound for success. Happy employees create good work. One major factor in keeping employees happy at work is to provide small treats and incentives that remind them that their company cares about their mental well-being. The more taken-care of an employee feels the more loyal they will be to their company and the more enjoyable they will be to work with.

These are just a few suggestions on ways to keep your company atmosphere upbeat and positive. If you are looking for more ways, ask your employees! They'll probably have plenty suggestions for shaking up the workplace, and who knows better what a positive atmosphere would be than the people who you employee?