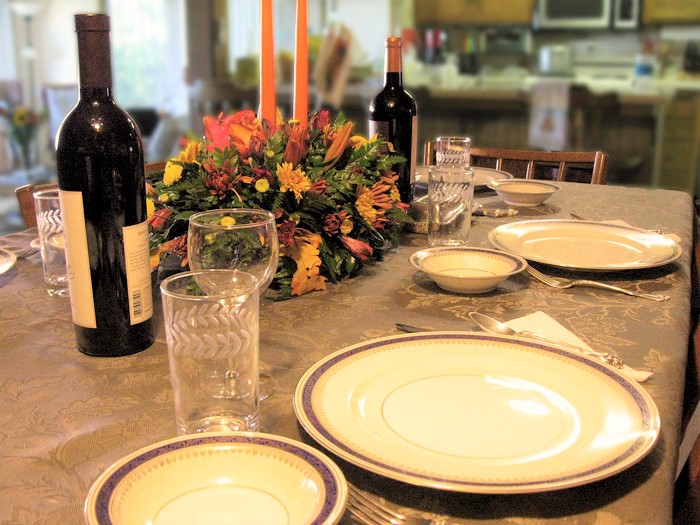 23 Nov

Concocting a Thanksgiving Meal to be Thankful For

Thanksgiving is a day most of us look forward to. It's a chance to catch up with friends and family members, share good memories from the year, and, of course, eat a huge, delicious meal!

If it's your turn to host this year's Thanksgiving feast, you're likely feeling the pressure to not disappoint. There are, of course, the traditional dishes that many of your guests are likely expecting, but you don't want to serve the exact same meal every year.

So perhaps you want to shake things up this year? Maybe explore some modern takes on your favorite dishes? If so, there's no need to throw out the beloved Thanksgiving meal classics. Instead, simply add some extra flair and you'll elevate your menu to a whole new level. Are you a stickler for more of a traditional approach? No problem – you can still wow and surprise with just a few tweaks of seasoning.

Check out the following recipes for fresh new flavors that are sure to keep your Thanksgiving guests asking for seconds.
Traditional Thanksgiving Menu
Beverage – Cider:  Emeril Lagasse has a recipe for hot apple cider that will make you say "bam!" Ready in about 15 minutes, this recipe allows for eight servings. It's filled with delicious spices and has just the right amount of sweet. Also: It pairs well with rum. This is a perfect pre-dinner sip that diners of all ages will enjoy.
Appetizers – Olive dish: A common pre-dinner snack, the olive dish is a popular appetizer because of the hearty flavor. Easy to eat, but small enough that you don't fill up too quickly, this app isn't hard to love. But, olives on a plate is more of a snack, and less of a traditional warm-up for your big meal – adding lemon and orange juice, fennel, pepper and cumin will make your guests' mouth water.
Main Course – Smoked paprika rubbed turkey: Turkey is always a Thanksgiving favorite, but if you've been using the same recipe all your life, maybe it's time to create a new traditional flavor palette. Change your flavors up with this recipe that comes complete with madeira and shallot gravy.
Sides
Baked Two-Cheese Rigatoni: A lot of us grew up eating macaroni and cheese with our Thanksgiving meals. Now that you're in charge of crafting your traditional adult menu, you can let this side dish mature with you for the enjoyment of all.
Sweet Potato Casserole: Everyone looks forward to sweet potatoes at Thanksgiving. The complimentary flavors of the starchiness of this root vegetable paired with a sweet topping makes it a staple tradition. If you were looking for an excuse to ditch the marshmallows, this praline recipe will satisfy the sweet tooth of any sweet potato lover. This recipe is also ideal for pre-meal prep because it can be made a day ahead of time and easily re-heated for the big meal.
Dessert – Pumpkin Pie: If you've been looking for a new version of this traditional classic, look no further. This recipe includes directions for creating a brittle and also incorporates the crunch of fresh pumpkin seeds. The real kick in this recipe comes from the topping. No more aerosol whipped cream — learn to make your own maple-flavored whipped cream for a whole new pop added to this beloved dessert.
Modern Thanksgiving Menu
Beverage – Cranberry Cocktail: If you are looking for a more sophisticated modern version of Thanksgiving flavors, consider creating a cocktail from your favorite sweet dishes. This recipe is for a white grapefruit cosmopolitan complete with cranberry juice and a cranberry garnish. The adults at your meal are bound to be impressed with your new spin on a pre-dinner cocktail. Simply leave out the alcohol to serve a "mocktail" to your younger attendees. Think outside the box and you can even create your own trademark Thanksgiving drink.
Appetizers – Prosciutto Wrapped Figs: This appetizer is perfect for hungry diners who are waiting for the big meal to arrive. They are a finger food that is easy to pop in your mouth. The flavors of the meat paired with the fig will get your diners excited for the flavor palette Thanksgiving is known for. Leave the cheese spreads and crackers at the store this year. Wow your friends and family with exciting new bites that may soon become a part of a new tradition.
Main Course – Cornish Game Hens: If you really want to take a modern approach to your Thanksgiving meal, trade in your turkey for cornish game hens. These little birds can be served as a group meal or individually plated for each diner.
Sides – Cranberry Ginger Sauce: No jelly cranberry sauce shaped like a can for you this year! Update a classic with a zesty spin — this recipe includes ginger and ruby red grapefruit. Your guests will not be expecting this delicious version of an old favorite.
Dessert – Apple Cider Donuts: If you really want a fresh spin on dessert this year, try taking your favorite pie fillings and kicking the tin. These apple cider donuts are a great alternative to apple pie. All of your familiar flavors served up in a new, finger-friendly format.
Photo credit: MauraFay / pixabay.com