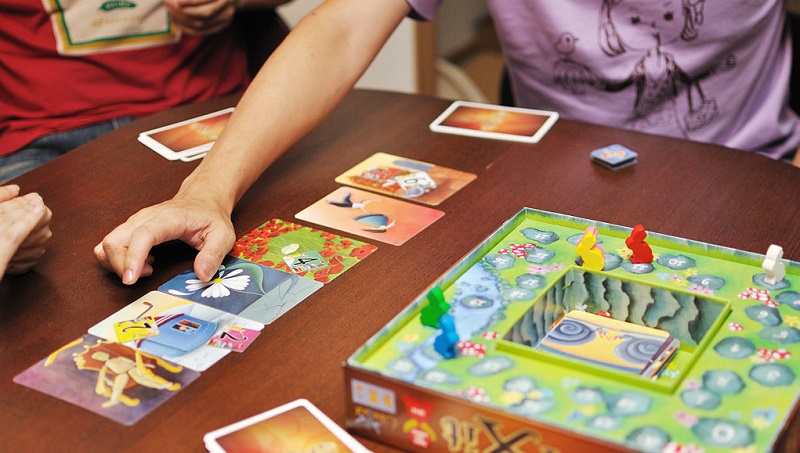 07 Nov

The Best Board Games for Families this Holiday Season

Have you heard about the boom in board games? Maybe you've seen the expanded collection of tabletop games offered by stores like Target and Barnes & Noble. Or perhaps your town has a new board game pub or tabletop cafe. Such a watering hole might serve helpings of vintage games like Battleship, hot new games like Pandemic, and funny party games such as Exploding Kittens along with craft beer, coffee, and gourmet snacks. Even with their ever-increasing diversity, the best board games share one thing: the ability to bring people together.

According to the market research group NPD, board games are the fastest growing category in the toy division.  In our increasingly digital age, where more of us than ever live online, a hunger for human contact has been growing across age groups. People yearn to connect face-to-face, spawning a board games renaissance.

One of the most rewarding results of this increased desire for real-life social connection is the return of family game night. More households now gather weekly to enjoy playing games around the dinner table. The holidays are an especially good time to add to your board game collection. They make great gifts and provide good times with family members getting together to celebrate!
How to Find Great Board Games
One of the challenges of the boom in board games is the overwhelming number of new titles available. If you're new to today's tabletop scene, how do you choose where to start? Some of the new games are expensive and there's a chance you could invest in a collection that's not the best fit for your family. Here's a list of ideas to aid you in your board games quest:
Check Reviews
Even though board games satisfy a hunger for analog days, digital tools let you winnow out the fun from the over-hyped tabletop games. Ask Google to find a particular type of game you're interested in and ask it which ones are the best. You will find many articles from trusted review sources that describe how each game plays and whether the reviewer had fun. There are also websites that collect reviews from board gamers, like Board Game Geek. 
Word of Mouth
One of the best ways to find a great doctor or restaurant or plumber is also one of the best ways to find board games. Ask your friends and co-workers if they play board games and, if so, which ones are their favorites. Get together with friends to play whatever games they have on hand and share yours. You may both discover new games you like this way.
Try Them Out
If you live in a city of almost any size, chances are good that there's a board game cafe or pub nearby. This is a great way to try a game to see if you'll like it. Spend an afternoon with a cup of coffee and a snack playing titles from their collection. If you don't have a nearby tabletop cafe, many public library branches offer board game nights.  
Best Board Games for Family Game Night
While you're asking friends for tabletop recommendations and checking out reviews, here's a short list of some of the most fun board games for families to get you started!
Ticket to Ride
Recommended ages: 8 and up. Number of players: 2-5. Ticket to Ride is a colorful racing game. Each player tries to build the longest train routes between cities in a limited amount of time. It's easy to learn and fun to play, with just the right blend of luck and strategy. It's also a great way to sneak in a little geography knowledge.
Unexploded Cow
Recommended ages: 12 and up. Number of players: 2-6. As you can probably tell from the title, Unexploded Cow will appeal to your older children and teenagers. According to the game's synopsis, "You have discovered two problems with a common solution: mad cows in England, and unexploded bombs in France." It's a funny card game in which players attempt to get rid of both problems. But keep an eye out for those sneaky spy cows.
King of Tokyo
Recommended ages: 8 and up. Number of players: 2-6. King of Tokyo is that rare game that is actually fun for almost all ages. It's a "last giant monster standing" game that uses dice rolls reminiscent of Yahtzee. But unlike Yahtzee, you also collect special powers and attack the other monsters.
Codenames
Recommended ages: 14 and up. Number of players: 2-8. Codenames is perfect for your post-Thanksgiving evening when people have had their fill of turkey and football. Even though the recommended age starts at 14, younger children who love reading or word puzzles will also enjoy this game. Players divide into teams who have to guess correct code words as their team leader, aka the Spymaster, gives them clues. But each team has to be very careful when guessing because an assassin lurks among the codes!
Dixit
Recommended ages: 6 and up. Number of players: 3-6.  Dixit is easy to teach, beautiful and intriguing to look at, and is endlessly replayable. It also offers lots of fun, mini-victories along the way which can be especially engaging for children. In this card game, each player takes a turn as the "storyteller" who gives a clue about the image on his or her card. All the other players choose a card of their own to match the clue. It draws on the players' imaginations and sense of humor. And it's fun to play whether you're close to winning or not.
Elder Sign
Recommended ages: 12 and up. Number of players: 1-8. Elder Sign is what's known as a cooperative game. All the players work together to beat the game. In this case, the players are in an H.P. Lovecraft- inspired world where monsters lurk. There, one of the biggest, baddest monsters of all, one of the Ancient Ones, is rising. If the Ancient One rises successfully, it may end the world. So the players have to work together to prevent this from happening and save the world. Elder Sign is a bit more complex than the other games listed here and should probably be introduced after your family has at least a few successful game nights under their belt.
Whatever games you choose, playing together with family and friends will make the holidays memorable. Browse online or ask your friends what games they like. You can even ask them on Facebook… and save the in-person interaction for game night.