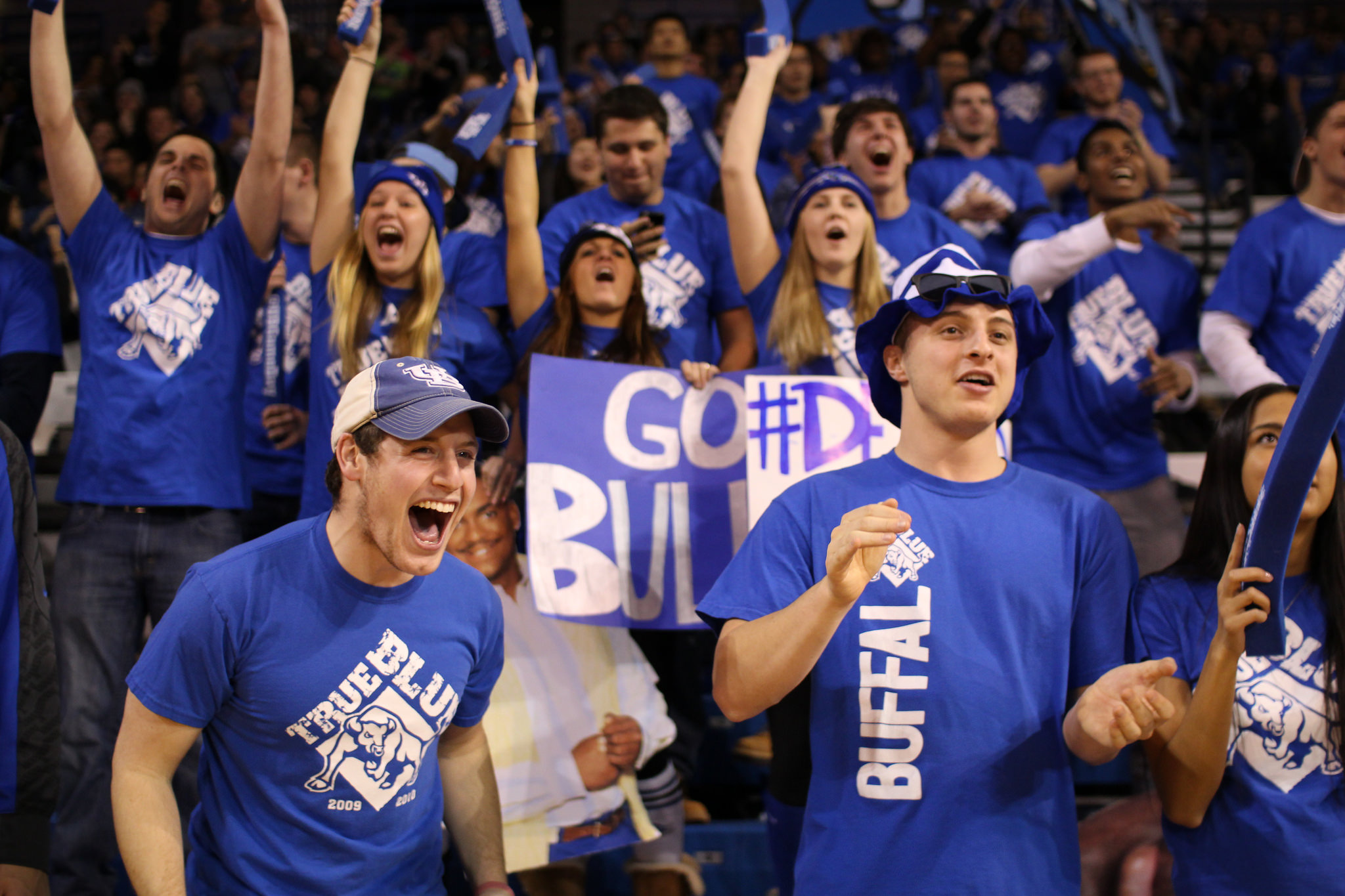 07 Jun

7 Ways to Showcase Your School Spirit
S-P-I-R-I-T, spirit!
Hey, let us hear it!
Gonna high gear it!
'Cause we've got spirit!
Your school is the B-E-S-T, best. You've got the school spirit, and you want your community to join in. But, how do you motivate others? Most of us know that we cannot make others change, but we can set an example worthy of imitation. So, I have compiled a list of seven ways to showcase your school spirit and get everyone on board the Spirit Express. Choo! Choo!
1. WEAR SPIRIT
This may seem like the most obvious effort you can make to show your school spirit, but it is probably one of the most important—if not the most important—effort. You may already have t-shirts, sweatshirts, and coats with your school mascot or logo. But don't forget the idea of wearing a variety of adornments that feature the school colors. Go school color coordinated from top to bottom: hat, wig, face paint, lanyard, temporary tattoos, shirt, jacket, pants, socks, foam finger, pompoms, and so on. The more over-the-top your effort is, the more your school spirit gets attention.
GO TEAM SPIRIT: Adopt a day that you and your friends can wear school colors and apparel. Or pick a specific theme (i.e. Hawaiian Day, Fiesta Day, Pajama Day) that can make your group's school spirit stand out even more. You might also consider having a healthy competition between each other for the best outfit.
&nbsp
2. ACCESSORIZE WITH SPIRIT
Notebooks, binders, folders, notepads, pencils, pens, backpacks, pins, pencil cups, and more. The availability of accessories with your team on them has never been better.
GO TEAM SPIRIT: Get your friends on board and order some custom-made accessories marked with your school mascot or logo. (Check with your school first about any possible copyright issues.)
3. LEAVE A MARK OF SPIRIT
Your school logo is going to need to blitz the local area. Decals, car magnets and/or stickers, car window markers, flags for your home or car windows, a bedroom comforter set, blankets, and so on. There are so many ideas out there on how you can get your school spirit in front of the eyes of many. Take advantage of as many of these as you can.
GO TEAM SPIRIT: Get your friends to match your efforts on their cars and homes. Imagine the spirited caravan of cars going to the big game!
4. GET SOCIAL WITH SPIRIT
Snapchat, Twitter, hashtags, Facebook, and Instagram. Take advantage of the social network. You know how to use them to share your life, so use them to the full for showcasing your school spirit.
GO TEAM SPIRIT: Tag your friends and have your friends tag you in posts promoting your school spirit. Share group images of school spirit. And don't forget the #hashtag.
5. GET VOCAL WITH SPIRIT
Your voice. The school song. A match that will be music to the public's ears. Well, it will at least gather their attention, anyway.
GO TEAM SPIRIT: Consider a public singing competition with your friends. Who sings the school song loudest and proudest? The song could even be a new song of you and your friends' creation.
6. SHOW SPIRIT AT COMPETITIONS
You're at the game. You've decked yourself out head to toe with school colors. What else is there to do? Banners, posters, handheld signs, fog horns, noisemakers, and more. Wave them around. Amp up your cheer with each successive team achievement in the game.  
GO TEAM SPIRIT: What if you take a spirited cheer or word and broke it up into smaller individual signs amongst a group of your friends? For example, "GO TEAM." Have each of your friends hold a sign showcasing a letter of that word. Stand together at the game and hold 'em proud and high.
7. VOLUNTEER WITH SPIRIT
Get the word out about your school and the events going on there by getting involved in community events. Tell your fellow volunteers and these local organizations why you love your school. Wear your school apparel while volunteering. Who knows. You might even end up on the six o'clock news advertising your school spirit to many, many people.
GO TEAM SPIRIT: What if you and your friends team up to help out with a local need. Don't wait for reporters to find you. Be sure to notify local news outlets of your effort and tell them why you are doing it.
So, there are all kinds of ways to showcase your school spirit. Which ones will you put into practice? Get creative with it. Have fun. Before you know it, your Spirit Express will go from just a locomotive to a 5-car-or-more train that propels your school team to the win!
Photo credit:  Chad Cooper / CC 2.0