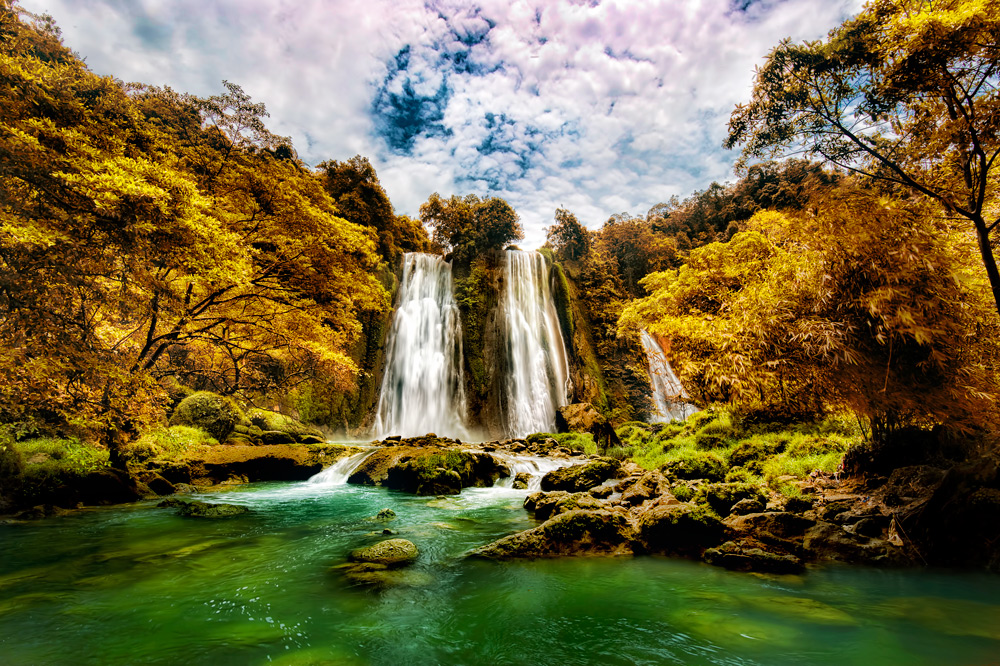 01 Jul

7 Hot Spots To Explore This Summer in Southwest Ohio
Summer is in full-swing.
It's past time to start making some plans for fun in the sun. Whether you are the outdoorsy type or you prefer some air-conditioned entertainment, there is plenty that Southwest Ohio has to offer. The weather is heating up in the tri-state, so check out this list of seven places to cool off or keep the heat on, depending on your style.
King's Island
Known for being the largest amusement park in the Midwest, King's Island offers family rides, thrill rides, live entertainment, and, most importantly, the Soak City Waterpark. With 36 slides, two wave pools, two coves, and a lagoon, the Soak City Waterpark has something for anyone who is looking to beat the heat.
Now featuring the Tropical Plunge, your trip to this park can send you down a 7-story flight. Step into the launch chamber and plummet down a tube guaranteed to heat you up right before it cools you down. Great for families and groups, be sure to look into day packages and discounted group rates. You can easily spend a whole day playing games and cruising on coasters.
Music Events
If you're into live music, Southwest Ohio has several fun options to look into. With concerts all summer that range everywhere from metal, to country, to smooth '70's jams, check out the Riverbend Music Center's lineup. The venue is equipped to seat just over 20,000 people and parking is included in your ticket purchase. Upcoming shows include Hall & Oates, Heart with Joan Jett, Cheap Trick, and the Vans Warped Tour. Riverbend also features sing-along nights with the Cincinnati Pops Orchestra if family friendly fun is what you need.
Also, follow the schedule at Fountain Square downtown for music and other events happening at the P&G Stage. You can catch everything from radio station hosted nights to gospel on Sundays.
Dayton Aviation Heritage National Historic Park
With the National Park Service celebrating its 100th birthday, the Aviation Heritage Historic Park may be what you are looking for if you want some indoor fun on extra hot days or during rainy weather. Anyone who is a history buff will love learning more about the Wright brothers and their long-time friend and neighbor, renowned poet Paul Laurence Dunbar.
Cincinnati Reds at Great American Ballpark
The "Great American Pastime" of baseball is always a celebrated summertime favorite. Head on down near the banks of the Ohio River for some peanuts, Cracker Jacks, and all your favorite hometown heroes. You might even get to check out some fireworks if the Reds hit a home run! Buy your tickets at the stadium or snag them early online at Boxoffice Tickets.
You can also find packaged deals for fun events at the park on their official site. The Great American Ballpark is a luxurious stadium that offers lots of extra fun along with your game. Pick a day you can bring along your pup or a game featuring some cool Star Wars memorabilia. You can also enjoy a nice walk along the river before or after your game.
Dayton Dragons
Before they made it up to the Great American Ballpark, all Reds players started out in the minors. The Dayton Dragons play at Fifth Third Field and give game-goers the opportunity to see future major-leaguers in the making. The field also hosts an array of events including races, baseball camp, and kids' parades. Click here to see their full line-up for the rest of the summer.
Cincinnati Zoo and Botanical Garden
Dedicated to zero-waste living, conservation, and education the Cincinnati Zoo is one of the most popular summer hotspots in the area. They've recently expanded to showcase larger areas for their African animal exhibit. Complete with lions, painted dogs, and an interactive meerkat arena, the new animals at the zoo will put a smile on everyone's face.
As you walk through the animal exhibits take time to stop and smell the roses…and all the other beautiful plants in full bloom! The park trails are lined with botanical gardens featuring unique plantlife. You can also find zoo workers walking reptiles and get the chance to pet their scaly friends as they teach you all about their lives and habitat.
Each exhibit features facts about the animals and their life outside of the zoo. It is the goal of the zoo to engage viewers with conservation efforts and encourage responsible living habits. You are welcome to pack a lunch for the group, but the zoo also offers tons of snack options, a full restaurant, and even beer for of-age visitors. Find out more about their calendar of summer events and ticket or membership pricing at their official site.
Yellow Springs
If a single park or museum or game doesn't feel like enough for your summer adventures, then why not try a whole city? Yellow Springs is a fun town with a pocket-sized appeal. You can make it all over this village in a day or make a full weekend out of it. In their self-described "eclectic" downtown area you can find an array of shopping, art galleries, places to eat, and even street corner music.
If you are looking for more time in nature, look no further than the Glen Helen Nature Preserve. You can find 1,000 acres of woods, a raptor learning center, and even a trailside museum. Only a mile away is the John Bryan State Park, where you can camp, bike, hike, rock climb, fish, or canoe. With historic homes, bed and breakfasts, and other lodging in the area available, Yellow Springs is the weekend getaway you've been looking for.
Photo Credit to alex hanoko / CC 2.0